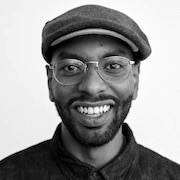 WADDA SALAH EL DIN
Consultant
Group:

BERLINERS, PARTICIPANTS
WADDA SALAH EL DIN
Consultant
Wadda is a senior marketing strategist, who loves to explore the space where digital marketing, business development, and public relations meet urban cultures and entrepreneurship with a big interest in new forms of cultural diplomacy and cross-cultural communication.
As diplomatic adviser for the United Nations, he was able to experience political diplomacy first hand and was inspired by the great diplomatic leaders and their impact on the decision-making processes. Arriving back to his Studies of European Studies and Economics in Osnabrück, Wadda combined his passion for social impact with his love for music and arts by helping build 16bars.de, a magazine for urban cultures, which was later turned into a production company with an award winning youtube original channel zqnce.
His journey as cultural entrepreneur took him all around the world and helped him build his unique network. Currently, Wadda is a consultant at TLGG, where he will be working closely with fortune 500 companies on topics of digital transformation and new business strategies.