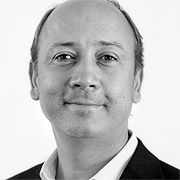 STEFAN IORDACHE
CEO, Founder
Group:

BERLINERS, PARTICIPANTS
STEFAN IORDACHE
CEO, Founder
Leo Burnett Romania
Romania
Class 11
After working 18 years in the Advertising business, Stefan heads a group of companies that includes 2 creative agencies, 2 media companies, 3 digital operations, and 2 small technology companies. Having started the agency back in the 90's with a team of three people that included his sister, Stefan's expertise and management skills were soon put to the test when they got picked up by Leo Burnett and started expanding. He now leads 200 people throughout these companies.
"I believe I have learned and grown as much as I could by doing things as I did so far. I need to 'enlarge' my world. I need to swim in a larger pool, see different things, meet different people, and have different experiences that could inspire me."
Stefan has spent much of his 18-year career leading his own agency, growing it from 3 people to two-hundred. He studied design at Institutul Politehnic Iasi, Textile in Romania.