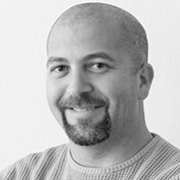 SAMI MOUTRAN
Director
Group:

BERLINERS, PARTICIPANTS
SAMI MOUTRAN
Director
United Arab Emirates
Class 16
In his current position, Sami is responsible for the overall management and leadership of all PR clients for Ogilvy, and provides strategic guidance to all clients. He also manages new business, leading and driving all pitches for the agency and identifying growth opportunities.He was previously involved in other areas of the company as a Business Development Director and Senior Account Manager, managing the creative process, as well as fostering relationships with clients.
"After a number of years of focusing my energy on professional growth, it is time to re-focus my energy on personal growth. When I first started considering an EMBA, I found the concept a little contradictory. How could I grow my professional career by spending time on myself and away from my job? But I came to realize that the only path to true professional growth is to ensure there is continuous personal growth. The idea of having a life-changing experience through the EMBA fills me with excitement and hope."
Sami majored in Sociology at the American University in Beirut and went on to obtain a Post-Graduate Diploma in Advertising and Marketing at the Red and Yellow School of Logic and Magic in South Africa.
He joined Memac Ogilvy PR in early 2004 as an Account Executive and worked in various areas within the company, primarily PR, advertising and activation, before becoming PR Director in 2014.