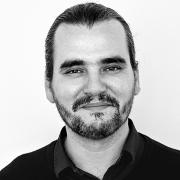 RODRIGO MORAN
Global Creative Lead
Group:

BERLINERS, PARTICIPANTS
RODRIGO MORAN
Global Creative Lead
Rodrigo defines himself as a pirate. To be precise, the captain of the pirates. He challenges the system and the processes. A creative, a planner, PR, a producer, a chief convincing officer who breaks all the rules to make ideas happen. As his son, a "no" means "yes". He leads creatives who care about social injustices. He won several awards: from more than 35 lions in Cannes, including 10 GPS, Titanium, gold, silver and bronze, to Best of Show, Clio, Webbys… but he is still chasing a Nobel nomination.
He lived in many countries and speaks 3 and a half languages: from advertising to interactive, from art direction to coding. From user-centered design to social impact. He studied around the world: Hyper Island in Stockholm, Miami Ad School in Brazil, London and NY and ESPM Brazil, and now is a Berlin School Executive MBA participant.
He never stopped learning and finding new ways of solving problems. World problems. That's it. He is a world problem solver.
His global work experience includes being a Senior Art Director at The Vidal Partnership in NY, Saatchi in London, and Duda Mendonça in Brazil. From there he became an Interactive Associate Creative Director at GlobalWorks in NY and at G2 Creative Studio in Beijing. The next step was to be a Global Creative Director at Ogilvy in NY and leader of the Pirate Team (a collective of creatives who care about social injustices). The team identifies problems, ideates creative solutions, and works to build relationships with government officials, business partners, and vendors to make ideas happen. He moved to Edelman as the SVP Global Group Creative Director and Chief Convincing Officer at Edelman in New York. He recently worked with Steve Jobs' wife on Social Impact. Nowadays, he is the Global Creative Lead of WhatsApp at the Creative X in Menlo Park, California.
Before discovering his passion for creativity, he worked in marketing at Microsoft Brazil and as a Bank Manager at Unibanco, Brazil.