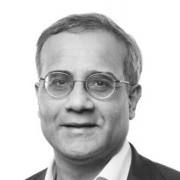 RISHAD TOBACCOWALA
Chief Strategist & Board Member
Group:

ACADEMIC FACULTY & INDUSTRY EXPERTS
RISHAD TOBACCOWALA
Chief Strategist & Board Member
Publicis Groupe
United States
Rishad Tobaccowala is Chief Strategist and Board Member of Publicis Groupe.
Before that, he was CEO of Denuo and the Chief Innovation Officer of Publicis Groupe Media which is a management board that oversees two of the world's largest media companies: Starcom MediaVest Group and Zenith Optimedia. Rishad also leads SMG Next, the first and most comprehensive futures practice in the media services industry. He was a founder and president of SMG IP, a digital communications agency that specializes in Internet contact strategy, execution and measurement.
Tobaccowala's vision and expertise played a central role in shaping SMG IP into one of the largest digital communications agencies based on IP media in the US, selected by Media magazine as the 2002 and 2004 Interactive Agency of The Year. Additionally, he serves as a board member of Starcom MediaVest Group (SMG) – the parent holding company of SMG IP – and is a member of its executive committee.
Tobaccowala brings 21 years of marketing and strategy experience across a wide spectrum of clients and companies. From 1996 to 1998, Tobaccowala was the president of Giant Step, Leo Burnett's interactive subsidiary. Over the course of his career, Rishad has worked with many marketers including Network Solutions, U.S. Army, Allstate, Kellogg, Miller Brewing, United Airlines, Maytag, Procter & Gamble, and General Motors. His other experiences include founder and director of Leo Burnett's Interactive Marketing Group, director of Direct Marketing, as well as nearly a decade in account service roles on a range of clients from Heinz to Procter & Gamble.
Tobaccowala serves on the advisory boards of many companies including Yahoo! and MSN, and is on the Board of Directors of Revenue Science. He was named to Advertising Age's Interactive Hall of Fame and was selected as Adweek's 2000 Media All-Star for Interactive Media.
Tobaccowala holds a bachelor's degree in mathematics from the University of Bombay and an MBA from the Graduate School of Business at the University of Chicago.