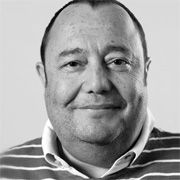 REMY FABRIKANT
CEO, Founder
Group:

BERLINERS, PARTICIPANTS
REMY FABRIKANT
CEO, Founder
JWT/Fabrikant
Switzerland
Class 10
CEO and Owner of JWT/Fabrikant, Remy brings a wealth of experience to the Berlin School of Creative Leadership. He leads one of the top ten advertising agencies in Switzerland, is a board member of the Mindshare Media Agency, as well as the Art Directors Club Schweiz, and is actuating as a donor for the Zurich Film Festival.
During his career he won more than 200 awards. His list of awards includes a Eurobest gold, a Cannes silver, as well as 120 Gold, Silver and Bronze Art Director's Club awards. In addition, one of his cinematic commercials is a part of the permanent collection of the Museum of Modern Art in New York. In the Gunn Report 2011: JWT/Fabrikant ranked 24th in the worlds most awarded print ads & campaigns.
Remy began his career as an Art Director at Advico Young & Rubicam. In 2000, he was a Worldwide Creative Director for the client Siemens at J. Walter Thompson in Switzerland. He has also worked with major clients, such as Bayer, Deutsche Bank, Kimberly-Clark GmbH, Heineken, Unilever, Microsoft, Nestlé, IBM, Swissair.
Despite his successful career, Remy is coming to the Berlin School to learn how to best prepare for the future of the creative industry and develop a continually improving business model that will capitalize on creative value. Some of the questions Remy brings to the Berlin School are "how can the value of creativity be defined in an environment of constant change?" and, "What are the benchmarks of the future?"