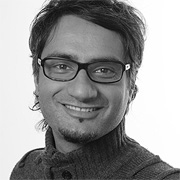 PRASHANT MADAN
Creative Director
Group:

BERLINERS, PARTICIPANTS
PRASHANT MADAN
Creative Director
As Director of Creative Services: Marketing & On-Air Promotions for Disney-UTV, Prashant manages multiple aspects of the organization, including developing channel branding, creative planning, marketing, directing image spots, budgeting, and much more. His awards include the 25 PROMAX and BDA Awards for excellence in on-air and creative work as well as the prestigious Piyush Pandey Scholarship for Creative Leadership.
After more than 12 years of leadership in television, film, and advertising, Prashant is coming to the Berlin School of Creative Leadership to expand his global mindset. "I asked myself, how do I take my India-only approach and make it a global phenomenon? How do I get inspired so I can inspire a team that like me, was used to many of years of thinking the same thing? How do I adapt to the new way business models were being formed for creative companies? I realized I must seek my answers with the people who are truly leading this change."
Before working at Disney, Prashant was the On-Air-Promtions Leader for PIX, a Hollywood movies channel, and the Promo Producer for MAX, India's leading Hindi movies channel under Sony. He has also worked as a producer for CNBC-TV18. He received his Bachelors degree in Commerce and a Masters in Mass Communication from the Symbiosis Institute of Mass Communication, Pune.