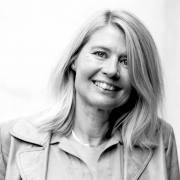 PIA-MARIA THÓREN
Founder and Managing Director
Group:

ACADEMIC FACULTY & INDUSTRY EXPERTS
PIA-MARIA THÓREN
Founder and Managing Director
Pia-Maria Thóren is a Berlin School faculty member teaching Agile People (HR) in our Executive MBA program.
Pia-Maria is the Founder and Managing Director of GreenBullet, and specializes in Agile HR, Agile leadership and Motivation. She has worked as a consultant with many of Sweden's largest companies, helping them to implement HR processes and solutions, always spiced with an agile mindset. She is a People Management Consultant and devoted change agent with an enterprise perspective. Her main focus is to contribute to creating organizations where people perform better and feel engaged. Agile Leadership and Agile Frameworks are the best ways to create successful change, in her opinion. Pia-Maria is the founder of Agile People, which is a network and a conference with the purpose of spreading the agile mindset in organizations. Her main drive is to see the movement from one state to another in a company, contributing by making that change successful both from a financial and human perspective. Her vision is to create customer value and have fun at the same time!
Special focus areas: Management 3.0, Performance management, Employee engagement & motivation, Talent management, project/program management, change management, agile leadership & HR, workshop facilitation, IT support for HR.
Pia-Maria is the author of Agile People – A Radical Approach for HR and Managers (That Leads to Motivated Employees), and the founder of Agile People. She specialize in Agile HR, Agile leadership and Motivation.