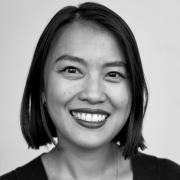 PEBBLE GOH
VP Creative Director
Group:

BERLINERS, PARTICIPANTS
PEBBLE GOH
VP Creative Director
BBDO New York
United States
Class 25
Pebble Goh is a multi-lingual, multi-cultural, and multi-disciplinary creative with 15 years of agency experience. As VP Creative Director at BBDO New York, she has worked on a variety of clients including AT&T, Johnson's Baby, Gillette and more. Pebble received an Effie for Johnson's Baby and the 1st global brand relaunch in 100 years.
Pebble's underlying motto is to "create and sell ideas that change behaviours". Throughout her career, she has transferred within the BBDO network globally 3 times and worked on numerous international pitches for BBDO around the world, from BBDO Malaysia to BBDO Singapore, and finally, the global office – BBDO New York. Pebble says this diverse global experience has given her unprecedented insights on the different needs of different markets.
Pebble has received accolades in Cannes, D&AD, The One Show, Clio, AWARD, AdFest, SPIKES and represented Malaysia and Singapore as a young creative in major regional award shows.
She graduated with a B.A in Graphic Design at Curtin University of Technology where she also made the Dean's List.
Starting her Executive MBA journey, Pebble says that she is very excited to be meeting creative leaders around the world. "Be it participants or the educators at Berlin School, it will broaden my horizons and keep me motivated to continue pursuing my career."