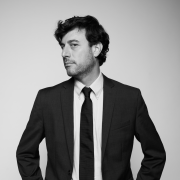 NOAH ROBINSON
CEO & Founder Freelance
NOAH ROBINSON
CEO & Founder Freelance
Class 03
Noah is a veteran of digital business and is currently based in New York.
Keyword Hero is fast-growing B2B SaaS that enables enterprise customers to access a treasure chest of data and insights which search engine keywords lead to engagement, conversions, and revenue. Keyword Hero is funded by Social Capital and Techstars Ventures and additional prominent angels.
Previously Noah served in a variety of roles in digital marketing, content,  product, and business development at Fox Entertainment (News Corp) , Mediacom, freenet digital & Gauselmann Group.
His former company, glispa, was named by Inc. Magazine as the #11th-fastest growing private company in USA between 2005-to-2007 and was also named the #1 fastest growing within the marketing sector. Market Tech Holdings bought glispa in 2015.