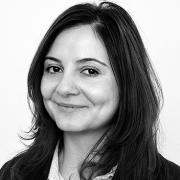 NICOLETA DELIU
Account Executive
NICOLETA DELIU
Account Executive
Banca Comerciala Romana
Romania
Class 21
Nicoleta is an enthusiastic communication professional with experience both in an agency and on the client side. She has been working for almost nine years in the largest bank in Romania, including during the financial crisis period. Her work is focused on changing the presence the company has on the market – transforming it from just a financial services provider to a well-perceived member of the community. She also holds a Charted Institute for Public Relations Diploma awarded by the CIPR Institute in London.
She was the first President of the Romanian IAA Young Leaders Chapter, where she built a sustainable organization that helps the development of young people working in marketing and communication in Romania.
She is also part of the Aspen Young Leaders Network, a program which has as main objective to promote and advance progressive leadership within Romanian and European society and to create a regional network of young future leaders based on shared values and common interests.