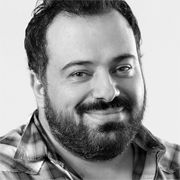 MOHAMMAD KAMAL
Partner
Group:

BERLINERS, PARTICIPANTS
MOHAMMAD KAMAL
Partner
MEMAC Ogilvy Advize
Jordan
Class 10
Mohammad is Managing Partner at MEMAC Ogilvy Advize in Amman, Jordan and was a cofounder of the company in 2003. He is responsible for everything from communication plans, human resources and budgeting to technology and marketing.
MEMAC Ogilvy Advize is Jordan's biggest brand agency and has been labeled the most creative agency in the country.
Mohammad found his calling when he started as an Account Executive with BBDO, after working for four years in the online world. However, he also quickly realized that he not only wanted to be in advertising, but he wanted to start his own company. Five months after starting with BBDO, he left to form Advize with the goal of changing the creative landscape of Jordan.
Mohammad studied Communications at Brigham Young University in the US, where he was proud to be considered an "eccentric rebel."
Mohammad came to the Berlin School to learn the fundamentals behind a creative vision. "Creatively, I've always been told I have a hunch," he said. "I can show you the results but ask me for the process or strategy behind it and I struggle. I want to find out the answer to 'how?'"