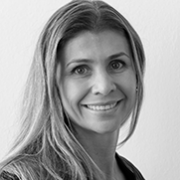 MILENA SEABRA FERREIRA
Director of Corporate Services
MILENA SEABRA FERREIRA
Director of Corporate Services
Milena has worked in marketing and communications for over 20 years, and her experience includes working with television stations, newspapers, radio stations, digital media, and entertainment, among others.
During the last 10 years, Milena worked directly with one of the top ten media groups in Brazil, GRPCom, formed by a newspaper company, radio stations and a TV broadcasting company (RPC) affiliated Rede Globo. There she has been working in different areas of marketing and led major projects in events, branding and business intelligence strategy. She currently leads a team of 40 people located in several areas of communication and branding, customer relations and business intelligence.
Prior to her current role, Milena was a Corporative Marketing Director, and was responsible for developing marketing strategies and identifying attractive opportunities to leverage the company's image. Milena has a BSc degree in Business Administration from UNIFAC, a Masters level Postgraduate in Hospitality Management from SENAC Sao Paulo, and a Master in Business Administration, Executive MBA from Fundação Getúlio Vargas.
Milena comes to the Berlin School to build onto her background and experience and help her organization meet current challenges. "Nobody doubts that the communication industry is changing. With the digital revolution came a new reality and a new consumer behavior, which is creating a different relationship among people and brands. We are living in an important disruption moment, where there is always the need to reconsider, to change or to intermit products and services and to create new demands and a new value for the consumers."