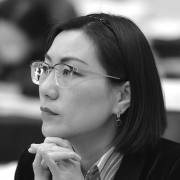 MARINA GUO
Head of Arts Management
Group:

ACADEMIC FACULTY & INDUSTRY EXPERTS
MARINA GUO
Head of Arts Management
Shanghai Theatre Academy
China
Dr. Marina Guo works as head of Arts Management, School of Creative Studies, Shanghai Theatre Academy, Vice Director of John Howkins Research Centre on Creative Economy. She is sits on the Board of Directors, American Institute of Performing Arts and Editorial Board of International Journal of Cultural & Creative Industries (IJCCI). She was visiting scholar of Queensland University of Technology (QUT) & the ARC Centre of Excellence for Creative Industries and Innovation (CCI). Marina holds Ph.D. in Economics, Master of Arts and Bachelor in Economics.
Marina was granted the prestigious merit-based Australian Endeavour Award 2010 by the Australian government. She won the most competitive Creative Leaders Award at China Creative Industries Award in 2011, and the finalist for Research and Innovation Award at ACAA Australia China Alumni Awards 2011.
Marina Guo is the author of Creative Transformation (China Economic Press 2011), translator of the book How Creativity is Changing China written by Prof. Li Wuwei and published internationally by Bloomsbury Academic in 2011 (London, UK). Marina is also a guest lecturer of Manchester Business School, Copenhagen Business School, Kaospilots Int'l, QUT, ACAA, AustCham etc.
Marina Guo is a cultural entrepreneur and executive professional in additional to her role in education & research. Marina is the founder and Director of Shanghai Yorkie Investment Management Co., Ltd. which was established in 2004 offering management consulting on project development, creative entrepreneurship, cultural policy and international marketing strategy. She is one of shareholders of Shenzhen International Copyright Exchange Center.  She was the co-founder and General Manager of Shanghai Sunspirit Cultural Development Co., Ltd., a leading organization in cultural communication and arts education for children and young people. Previously Dr. Guo worked as Director of International Affairs, Research Centre for Creative Industries, Shanghai Academy of Social Sciences, and editor & reporter for Journal of Creative Industries. She has performed a couple of managerial positions in retail operations, manufacturing procurement, marketing for leading multinational corporates like IKEA, Henkel & GEA, from where she gained her entrepreneurial experiences.
Marina Guo is interested in developing cross-cultural and multi-disciplinary creative projects. She's worked with leading organizations to run international conferences, festivals & cultural events as well as to facilitate international business development for Chinese creative enterprises. By working with London-based BOP Consulting, Marina Guo has contributed to the Shanghai part of World Cities Cultural Report 2012. Her potential is being further explored in creative cluster developments & investment Fund in China.