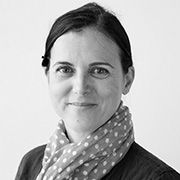 MARGARITA PECES
Associate Creative Director
Group:

BERLINERS, PARTICIPANTS
MARGARITA PECES
Associate Creative Director
Marga is a creative professional developing her craft in the fields of advertising and graphic design. Her work experience encompasses a variety of clients: from multinational corporations in every marketing category to nonprofit groups.
Originally from Madrid, Spain where she completed her bachelor's degree in Advertising and Public Relations and started her professional career working at Y&R.
Her love for graphic design soon landed her in New York where, while continuing her advertising and design work, she took the opportunity to enroll in NYU and School of Visual Arts workshops and classes to keep exploring other creative disciplines.
A "newborn" New Yorker, she works for one the most "famously effective" agencies in the city.
For the past 4 years she has dedicated herself to mastering the wellness / health and pharma brands for the growing multicultural markets in the USA.
Her work has garnered important awards, among them an Addy, an ANA Multicultural Award, an Effie, and most recently a Cannes Gold Lion.