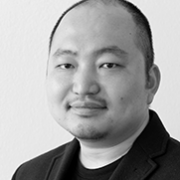 LAE-HYUNG (RAY) KANG
Professional
Group:

BERLINERS, PARTICIPANTS
LAE-HYUNG (RAY) KANG
Professional
Global Marketing Center – LG Electronics
South Korea
Class 16
In his current role as a global exhibition and experience design professional at the global marketing center of LG Electronics, Ray is dedicated to create customer value in every spatial presence of LG brand and products.
Ray has a BA in Political Science and International Relations from Korea University, and he also studied as an exchange student at the University of British Columbia in Vancouver. Following his Art and Business semester course at Sotheby's Institute of Art in London, he completed an MA in Arts Administration and Cultural Policy at the Goldsmiths College at the University of London.
Ray worked at SK and BLACKSPACE GmbH managing space projects of global top brands such as KIA, Hyundai Genesis, SK telecom, and Asia's biggest shopping mall – New Coex.Ray he started his career as an art director for Cheil Worldwide in Seoul, and later as a Curator for the Artsonje Center before joining SK Planet in November 2011.
Ray believes the EMBA at the Berlin School would adjust and enrich his understanding of creative leadership, and equip him with the necessary tools to achieve his goals. "After a successful journey at the Berlin School of Creative Leadership, I will be more confident in the creative scene. This confidence will play a significant role in my industry. I also have the aspiration of creating something "new", something that never existed in Korea. Through connecting global and local, merging arts and businesses, I wish to build "the creative hub" of the Korean creative scene. I am sure that the Berlin School will be my final puzzle piece in this big picture."