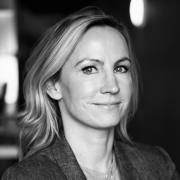 KRISTÍN EVA ÓLAFSDÓTTIR
Partner & Art Director
Group:

BERLINERS, PARTICIPANTS
KRISTÍN EVA ÓLAFSDÓTTIR
Partner & Art Director
Gagarín
Iceland
Class 25
Kristín Eva Ólafsdóttir has over 20 years of experience in the field of design as a Partner & Art director at Gagarín interactive design studio in Iceland. She is Chairman at Icelandic Graphic Design Association (FÍT) and board member at Art Directors Club of Europe and has been a member of the board of judges at Iceland Design Awards, FÍT awards and the Art Directors Club of Europe (ADC*E).
Over her decades of commitment at Gagarín, Kristín has worked in art direction, exhibition design, marketing management, and branding, concept, web and print design, as well as project management.
She is a graphic design graduate from the Icelandic Academy of the Arts and has partaken in numerous awarded interactive exhibitions and fairs both in Iceland and abroad. Amongst her design accolades with the Gagarin team are awards from the Red Dot Communication Awards, German Design Awards, SEGC Global Design Awards and the European Design Awards.
Kristín is passionate about increasing visibility for women in the Icelandic creative industries and hopes that the Executive MBA will be a chance to face new challenges, to interact with different people and step out of her comfort zone.