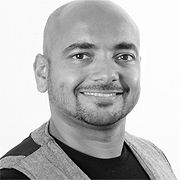 IKE ANAND
Founder
IKE ANAND
Founder
Zeus Digital
Singapore
Class 15
With more than 15 years of experience in the media and advertising industry, Ike runs his own agency Zeus Digital in Singapore. In his words, "Zeus is part tech startup, part digital agency, creating insightful digital products and marrying compelling content with clean code to create 21st century sorcery: it's not about social media, it's about social ideas". Zeus views brands as the drivers of change, not only giving consumers what they need but also involving consumers in co-creating change and contributing to their lives and that of their social milieu.
Previously, Ike worked thru-the-line as Creative Director and Sr Creative for integrated agencies in Sydney, London and Singapore. Agency experience includes the likes of Ogilvy, DDB, Euro RSCG, Sapient Nitro, Iris, TPG, Squake, Maverick, Donor Cardwell Hawkins, etc. Client experience includes NTUC Insurance, HSBC, Standard Chartered, Intel, Dell, Hewlett Packard, Nokia, Vodafone, Sony, Sony Ericsson, Discovery, Unilever (Axe, Dove, Sunsilk), Reckitts Benckiser, Emirates, Audi, Toyota, Hino, Lexus, Hennessy-Moet, Jack Daniel's, BlackBerry, Dewar's, Bacardi-Martini
He also teaches Creative Thinking, Art Direction, Copywriting and Digital Planning at the Chatsworth Media Academy, which is in his words is "his way of giving back".
An Australian national, Ike obtained a BSc in Commerce and an MA in Creative Writing from Kingston University in London, where he graduated with a distinction. He also did a variety of professional courses at the Australian Writers & Art Directors Association, Australian Direct Marketing Association and Hyper Island.