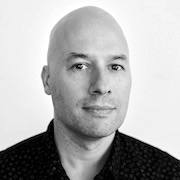 IAN JEFFREYS
Executive Producer Managing Director
Group:

BERLINERS, PARTICIPANTS
IAN JEFFREYS
Executive Producer Managing Director
Ian Jeffreys has spent his life and career devoted to the craft of making music. Today, he is the Managing Director of Butter Music & Sound, a production company headquartered in New York City. During his tenure, the company has expanded to offices in Venice, California and Berlin, Germany. Throughout that growth he has still managed to stay close to his primary passion: being a part of the creative process where music, creativity, and strategy meet. Past clients include Mercedes, Supercell, Procter & Gamble, DirecTV, Reckitt-Benckiser, Samsung, and countless others. Projects he has produced have garnered Cannes Lions, One Show Pencils, AICP awards, LIA awards, Ciclope awards, and more. He lives in Brooklyn and drinks Manhattans.
Ian has won the Contagious Scholarship in 2018.
Learn more about our Executive MBA.