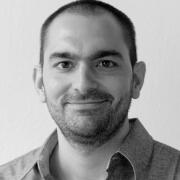 GIORGIO DI VECE H.
CEO/Partner
Group:

ALUMNI, PARTICIPANTS
GIORGIO DI VECE H.
CEO/Partner
Ever since Giorgio Di Vece H. can remember, he's been in love with brand communications – basically as long as long he has been working at v09&Co. where he is CEO and Partner. Prior to landing the C-Level titled, he started out as a copywriter, moved into creative planning and held many other roles along the way at v09&Co., all which gave him a thorough and holistic approach to communications and agency management.
His view on brand communications is that it is no longer limited to commercial activities, but rather necessary for company culture and the value creation processes, especially in times of exponential change. At v09&Co., he articulates creative business consultancy around purpose, innovation, the leverage of technology and a much broader definition of communication.
v09&Co.'s purpose is to improve people's lives with creativity – in fact, they exist to help create solutions that are relevant for people and more effective for organizations.
Giorgio majored in marketing and was a board member of AMAP (Mexico's Advertising Agency Association). He is an alumnus of our Executive MBA in Creative Leadership, having defended his thesis The Illusion of Company Ownership in February 2020.
Learn more about our Executive MBA.