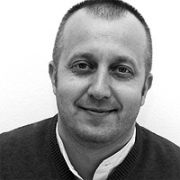 GHEORGHE BARAIAN
CEO
GHEORGHE BARAIAN
CEO
Impresion Graphics
Romania
Class 02
A top level graduate of Law University, Geo decided that real life advertising is more provocative than justice and made a spectacular loop through the communication industry.
A serious believer of the theory "hate something, change something, make something better", Geo discovered the flaws in the market and strove to improve the quality of printing for outdoor displays. To make a difference, he brought in Romania Hecht and established a new way to think about the production discipline. In 2004 his company became part of the Impression Group, one of the biggest European companies specialized in high level outdoor production.
For 2 years Geo Baraian has been involved in educational tutoring projects by supporting the presence of the Romanian Young Lions teams at Cannes Lions Festival. Though a pacifist on the advertising battle field, Geo enjoys a hunting from time to time. He appreciates evening quality time with his family after a demanding day and has an appraisers eye for contemporary art.