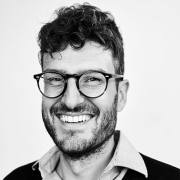 FLAVIO FABBRI
CCO
Group:

BERLINERS, PARTICIPANTS
FLAVIO FABBRI
CCO
Independent
Spain
Class 25
Flavio Fabbri is an award-winning Chief Creative Officer with a background in advertising, digital, art direction, and photography.
Flavio has served as Digital Chief Creative Officer at Young & Rubicam, Oglivy, IBM and Armando Testa, leading the digital teams across the Milan, Turin and Los Angeles and working with clients such as Facebook, Vodafone, Red Bull and the UN. Before this, he was Creative Director at Y&R / VML who were the winners of "Best Italian Digital Agency" NC Award from 2015 – 2017.
Throughout his career, Flavio has received over 70 awards for his creative work including six Cannes Lions, two Gold Epica Awards, three Clio awards and a feature in the 2017 GUNN Report.
Away from client work, Flavio also teaches Digital Advertising, Photography and Web Design at Istituto Europeo di Design, Milan.
In joining the Berlin School, Flavio hopes to enrich his sense of purpose in his work by looking inwards as a creative and as a creative leader.