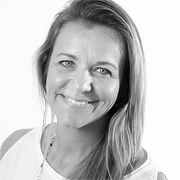 ELLEN KISS
Manager
Group:

BERLINERS, PARTICIPANTS
ELLEN KISS
Manager
Ellen has almost 20 years of professional experience in the areas of branding and design strategy, and also works as a Professor of Strategic Innovation and Design Thinking at ESPM in Brazil.
Ellen has balanced her career between independent professional practice, education and institutional organizations. She has worked for the design agencies a10 Design, Oz Design, 100% Design and VRDResearch, as well as organizations such as Abedesign, where she has been a director for 4 years. In addition, she has taught Design for almost 10 years as a Professor and Lecturer in numerous institutions and regularly writes articles and columns in diverse publications.
She has a BA in Communication and Marketing from Mackenzie University in Sao Paulo, as well as a Master in Communication and Consumer Practices from ESPM and Post Grad in Design Management from the University of Arts in London.
She believes only few industry players are prepared for the shift from physical to digital experience, especially in the banking sector, and that the actual knowledge about the habits of customers in the digital environment is limited, hindering the ability to deliver solutions suited to their needs. "Creativity requires much more than big ideas. To be a leader in the creative industry more skills are required than those acquired in undergraduate courses. It is necessary to develop a new mindset to fill the gap between the left and right brain, between insights and goals, between creativity and strategy."