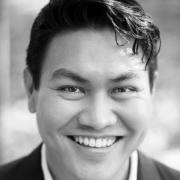 DOY CHARNSUPHARINDR
Lecturer
Group:

ACADEMIC FACULTY & INDUSTRY EXPERTS
DOY CHARNSUPHARINDR
Lecturer
Haas School of Business at UC Berkeley
United States
Doy Charnsupharindr is a Berlin School faculty member coaching our participants in the special workshop "Leaders on Stage".
Doy is a certified leadership and communications coach based in San Francisco, California. He is a lecturer at UC Davis Graduate School of Management and UC Berkeley's Haas Business School, teaching MBA-level courses focusing on developing leadership, communications, and coaching skills. He teaches High Impact Leadership courses at Berkeley Executive Education at UC Berkeley, and has been a guest lecturer at Nanyang Business School (Singapore).
Doy has conducted many workshops for leading high technology, consulting, and financial services firms, including Adobe, Cypress Semiconductor, Novartis, as well as non-profit and governmental organizations. When coaching and training professionals, he draws upon his own professional experiences as a business strategist, a product manager, and an operational manager overseeing global teams in the financial services and high- tech industry.
Doy has an MBA from UC Berkeley's Haas Business School (2011) and a BA in Economics from Stanford University (2000). He's a former musical director of Stanford's Mixed Company a cappella and a winner of the Contemporary A Cappella Recording Award (CARA). His love for the performing arts extended to other stages as an actor—from Shakespeare to Broadway musicals—and a dancer with Bay Area's dance companies.
Growing up in a multicultural and multilingual household, Doy has a deep appreciation for diversity and different perspectives. He spent half of his life in Southeast Asia and the other in America and has met many inspirational leaders and powerful communicators—each with their own qualities and approach.
Today, Doy utilizes his extensive experiences in the performing arts to enable others to develop their communication skills and leadership presence. Doy's goal as a coach and instructor is to be the catalyst for others to become authentic leaders, change agents, and inspirational communicators.