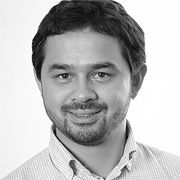 DMITRY KESHISHEV
Chief Digital Officer
DMITRY KESHISHEV
Chief Digital Officer
Ruptly
Germany
Class 13
Dmitry is an experienced Chief Officer with an extensive background in media production and numerous awards. A strong business development professional, he is the Chief Digital Officer at Ruptly in Berlin, Germany. His skill set includes Digital Strategy, Customer Insight, Innovation Management, Advertising and Integrated Marketing.
Before joining Ruptly, Dmitry worked as ECD at Progression Group, the leading Russian independent advertising group of agencies, where he managed the creative department, coordinated with the business development group to design marketing strategies and ideas, and was responsible for recruiting top talent.
Keshishev also worked as an Art Director and Designer for several different agencies. He received a specialist degree in Mathematics and Computer Science, as well as a second Bachelor of Arts in Mass Communication Design at Lomonosov Moscow State University.
Dmitry knew he wanted to come to the Berlin School of Creative Leadership after attending the school's seminar at Cannes Lions. Since then he decided it was time to develop his skill set even further. "The time has come when it is crucial for me to gain skills and knowledge, and to establish a network of creative people in my and other spheres which is only possible to do at the Berlin School's unique, synergetic atmosphere and in the framework of its dynamic and innovative program."