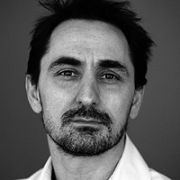 DAVID DROGA
Creative Chairman, Founder
Group:

ACADEMIC FACULTY & INDUSTRY EXPERTS
DAVID DROGA
Creative Chairman, Founder
At 29, David was promoted to Executive Creative Director of Saatchi & Saatchi London. Under his leadership as Executive Creative Director at Saatchi & Saatchi London, that agency was named "Global Agency of the Year" at the Cannes International Advertising Festival 2002. In his six years at Saatchi & Saatchi, David collected 45 Lions and two Grand Prix at Cannes. Before coming to London Droga was Executive Creative Director of Saatchi Singapore and Regional Creative Director of Saatchi Asia. David was Partner and Executive Creative Director of OMON Sydney, which won 'Australian Agency of the Year' twice and 'Ad of the Year' four times.
Born and raised in an Australian ski resort, David Droga has become one of advertising's most influential individuals. While David puts a high emphasis on leadership and success, he also values enjoyment, loyalty and sincerity and is equally proud of the diversity and breadth of the work he has helped create.
Droga was the first-ever Worldwide Creative Director for Publicis Worldwide from 2003-05. At the end of 2005 Droga became head of a joint venture with the Publicis Group called droga5. A brand ideas and entertainment laboratory, droga5 will be based in New York and LA.
Droga, who has had an exceptional international career, has won more awards than any other creative director including 42 Cannes Lions, 23 One Show Pencils and seven D&ADs. In addition, he was named "World's Top Creative Director" by Ad Age in 2002 and named one of the most influential people in Europe under the age of 40 by Media Magazine in 2001.