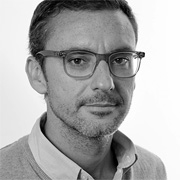 DANIEL SKOWRONSKY
Founder and CEO
DANIEL SKOWRONSKY
Founder and CEO
Global
Brazil
Class 12
As Partner and Strategy Director of Global Advertising Agency, Daniel helped implement full brand management for its clients with teams designated to meet specific needs.
Daniel joins the Berlin School of Creative Leadership EMBA program after his experience with the Berlin School's Cannes Creative Leaders Program. Seeing the importance of learning leadership, rather than just experiencing it, he looks forward to broadening his skill-set. "I realize that for the company to fly higher, it is fundamental that I connect more with the team because we can only develop major projects with an integrated and motivated group. I realize that nowadays my job increasingly requires more skills related to leadership than to execution."
Daniel previously worked as an Account Planner for Publicis Salles Norton as well as an Account Executive for M+A Advertising Agency and as Planner for RBS Group. He also served as both the Director and President to the Rio Grande do Sul Association of Advertising. He received his undergraduate degree at Pontificia Unversidade Católica do Rio Grande do Sul as well as an MBA with a concentration in Marketing.