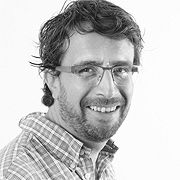 DANIEL B. MONROY
Creative Consultant
Group:

BERLINERS, PARTICIPANTS
DANIEL B. MONROY
Creative Consultant
For more than two decades, working as a creative in the advertising industry, Daniel did it all —from managing national, regional and global accounts to directing and developing original creative work for TV, print and web to adapting international material for local markets to working on collaborative accounts across Latin America and Europe.
From Mexico, Daniel studied graphic design at the Universidad Iberoamericana. Shortly after, he joined McCann in 1993, worked for other agencies such as DDB and Grey in between as well as freelancing before returning to McCann in 2006 where he was Group Creative Director for their Mexico City agency. Since 2017, he's been working as a creative consultant helping brands design the heart of their story with a humanistic lens on culture. His knack is in conveying complex stories in simple ways and bringing more purpose behind creative strategies.
Daniel is a true believer in that the more a person knows, the more he or she is in tuned with themselves and the world around them to better explore new ways of communication and leading teams. To him, a great creative leader is not the one who has the most followers, but the one that creates the most leaders.