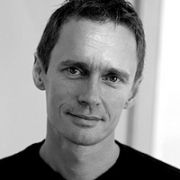 CRAIG DAVIS
CCO
Group:

ACADEMIC FACULTY & INDUSTRY EXPERTS
CRAIG DAVIS
CCO
Publicis Mojo
Australia
Craig is one of the most respected creative leaders in advertising.
Craig is Co-Chairman and Chief Creative Officer of Publicis Mojo Australia. He joined Publicis Mojo in June 2009, after returning to Australia from his London-based post as JWT's worldwide creative chief.
Craig re-engineered the company's creative culture and led JWT to the biggest upwards leap in the history of The Gunn Report; its award tally at Cannes increased more than five-fold. He was also instrumental in winning the global HSBC and Nokia accounts for JWT.  Prior to JWT Craig led Saatchi & Saatchi Asia to become the most awarded network in the region and was recognized as Campaign Brief's Person of the Year.
He has been a juror for every major international advertising festival and served as President of the Cannes Film and Press juries in 2008.
He's also involved in a few other things: Chairman of AWARD (Australasian Writers and Art Directors Association) since 2010, Board of Communications Council since 2010, Chairman of YouTube's global "Good Work" initiative 2011, Board of Advance since 2011, Founding Member Publicis Worldwide Creative Board 2011, Adjunct Professor, UTS Business School 2012, Member NSW Creative Industries Task Force 2012, Board of Conscious Capitalism 2012, Advisory Board of The Lifeboat Foundation 2012
He's a frequent spokesperson for the industry, a regular Campaign magazine columnist, digital enthusiast and keynote speaker. Craig is also the fastest Australian to complete a marathon at the North Pole.
Recently he started the world's first brand-centric social media platform – Brandkarma.com as a personal project.
In between things, he does his best to keep fit, stay sane and be a good dad.