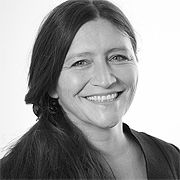 CLAIRE JONES
Chief Marketing and Creative Officer
Group:

BERLINERS, PARTICIPANTS
CLAIRE JONES
Chief Marketing and Creative Officer
IROKO Partners
United Kingdom
Class 13
Claire is Chief Marketing and Creative Officer at IROKO Partners, Europe's leading content preparation and distribution facility.
Prior to this role, she worked as Creative Director, ECD, Executive Director at Loft London, and before this as Director of Creative Services for Liberty Global in the Netherlands. Here, she was responsible for implementing and unifying the creative development over all TV & emerging platforms across Europe, ensuring consistency of vision for the UPC & Liberty Global brand strategy and development of creative thought. Within her tenure she has launched and managed the On Demand business unit of the company developing and deploying On Demand services across multiple markets – and is responsible for the management of an exceptional, award winning team of 20 + creatives with an additional 30 across Europe.
Before joining Liberty Global in 2001, Jones worked as the Creative Director for Independent Television News where she was responsible for the operational set up of the promotions and marketing department for the first ubiquitous news channel to launch across multiple digital platform simultaneously within the UK market. She has also worked for Prima TV in Romania and Orbit Satellite TV & Radio Network in Italy. Jones received her Bachelor of Honors in Fine Art at University of Wales and received a Master of Science in Electronic Imaging at Jordanstone College of Art, Dundee.
With twenty years of experience working with top international TV Broadcast & Communications companies, she came to the Berlin School of Creative Leadership to help grow her own independent thinking and ambitions as well as gain new perspectives within her own industry. "I would like the opportunity to shake up the knowledge I have gained, and grow. I wish to find new words and new skills to help further foster my experience and build a bright future. I have been following the Berlin School of Creative Leadership since its inception with fascination and desire and now it's time for me to put into action my learning and take a step towards opening up this new and exciting world."
"Whilst working within Liberty Global I have had the golden opportunity to establish and build a highly successful internal creative agency within a Global organization catapulting the reputation of my team within the International TV landscape; and I will soon embark on a journey to further champion creativity within the organization by expanding my remit across the wider group. To attend the Berlin School EMBA will assist me in building stronger and more challenging thought processes, and nurture the desire I have to apply leadership through creativity in a highly technical and complex digital world."