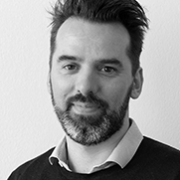 CHRISTIAN H. OTTENHEIM
Owner & Executive Producer
CHRISTIAN H. OTTENHEIM
Owner & Executive Producer
Lyd&Co & Doceye Digital
Denmark
Class 16
Chrisitian Ottenheim is a journalist with a major passion for sound. His entire career has been in broadcast radio, having started out at DR (Danish Broadcasting Corporation) as a radio journalist and worked his way up to Program Director.
After 15 years, he decided to start his own company, Lyd&Co, that specializes in developing, producing and distributing audio content (i.e. radio programs for national broadcasters and podcasts for private companies, organizations and institutions). It opened its doors in 2018 and collaborates closely on audio projects with the media company, Doceye Digital, where Christian acts as Executive Producer. Lyd&Co serves as the consultancy partner in helping customers develop audio strategies, with production and marketing their own audio content.
Christian holds a Bachelor's degree in Journalism from the Danish School of Journalism. He studied French Language, History and Culture at the Paris-Sorbonne University, as well as Arabic Language, History and Culture at the University of Copenhagen. He completed our Executive MBA in Creative Leadership program after defending his thesis Branded Podcasts in February 2020.