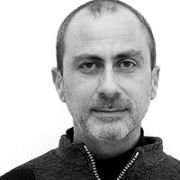 BECHARA MOUZANNAR
ECD
BECHARA MOUZANNAR
ECD
In January 2011, Bechara Mouzannar was named Exectuive Creative Director of Leo Burnett for the Middle East and North Africa, overlooking the creative product of eleven offices in ten countries. He has instilled a creative culture of "happy dissatisfaction" at Leo Burnett MENA – the 'You're only as good as your latest campaign'; – encouraging the creatives to always stay humble about their wins and to constantly be putting their best efforts onto their real work, on regular briefs.
Over the last few years, Bechara has substantially contributed to winning more than 275 international and regional prestigious awards: twenty Grands Prix and a big tally of Gold and Silver awards between Cannes Lions, Golden Drum, the Clio Awards, D&AD, The One Show, Cresta, New York Festivals, John Caples', Epica, The Cup, Loerie, Dubai Lynx, MENA Cristal and Effie awards.
Bechara started his career at Publicis Conseil in Paris in 1984. He then worked as a film director for three years, shooting more than a hundred commercials, before joining, in the early 90s, Leo Burnett in Beirut as a Creative Director, where he first worked on local campaigns, putting his best efforts, with his teams, onto giving a humanly insightful and genuinely local new approach to Lebanese Advertising. As a result of this ongoing collective effort, Leo Burnett Beirut has constantly been across the years the most awarded Beirut-based agency in the world.
Bechara was also a member of several juries: the New York Festivals' executive jury, the John Caples' and the Cresta in New York, the Golden Drum, the Cristal and the LADC in Europe, and most importantly the Cannes Lions, where he was the first native from the Middle East to ever be invited as a juror.
In 2009, Bechara got an EMBA from the Berlin School of Creative Leadership, with a new vision to innovate the channels of integrating an idea, and to better engage and entertain people with a brand.