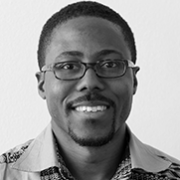 BAI SAMA GWENNING BEST
Manager
Group:

BERLINERS, PARTICIPANTS
BAI SAMA GWENNING BEST
Manager
Liberian Observer Corporation
Liberia
Class 16
A few years after graduating from college and working in public relations, church ministry, sales, and teaching performing arts in the US, Bai returned to Liberia to help his father Kenneth Y. Best restart his independent newspaper, the Daily Observer, founded by him and his wife in 1981. In his role, Bai supervises all pre-press departments: editorial, advertising and layout teams, as well as the web team. Bai now aims to continue the professional and institutional legacy of the Daily Observer, and this is what brings him to the Berlin School.
"This EMBA is a big deal for me because in Liberia not many businesses have been able to survive beyond the lifespan of their founders. The EMBA modules covering corporate planning and governance, as well as decision making and change management are of great interest to me because of this very issue. As the Observer grows, such knowledge will enable me to better understand the company under my control."
Before becoming a Marketing Manager at the Daily Observer, he lived and worked in the US as a Co-director of a Youth Ministry, a PR Assistant, as well as Artistic Director and Dance Instructor.
Bai is currently a Steering Committee Member at the Arts & Culture Council of Liberia and a Founding Member and Secretary of the Arterial Network Liberia. Bai has a BA in Communication Studies from Westmont College in California.