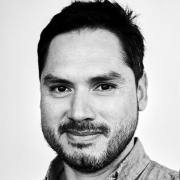 AZAEL TORRES
CEO & Director
Group:

BERLINERS, PARTICIPANTS
AZAEL TORRES
CEO & Director
Azael Torres is CEO and Director at Cafeína, a digital marketing and communications agency "connecting brands with new generations" in Ecuador. Azael has worked in the creative industries for almost two decades specializing in creative research, analysis, strategy and planning of advertising campaigns across agencies, brands and products.
Before starting Cafeína, Azael held the Creative Director position at a number of Latin American agencies, including Vanguard Publicidad, La Facultad and CEM Comunicaciones / Bates. He has been awarded numerously throughout his career including BID, E-commerce Day, Festival La Prensa Gráfica and Festival Caracol de Plata.
Azael has a degree in Graphic design and Advertising from Universidad Superior Politécnica del Litoral (ESPOL).
As he starts his journey at the Berlin School, Azael hopes that the Executive MBA will help him to broaden his global vision and grow his business in relevance, talent and social impact.