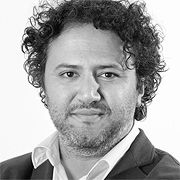 ALESSANDRO BEDA
Creative Director
Group:

BERLINERS, PARTICIPANTS
ALESSANDRO BEDA
Creative Director
Duda Ads Polska Sp. Z O.O
Poland
Class 15
With 17 years of experience as an Art Director, Alessandro has expertise in TV and print advertising, graphic and motion design, and interior and POS design.
He is an Alumnus of the Cannes Creative Leaders Program in 2013, where he developed the "UNDERSTAND, THINK & DO" framework. Since then, he has been trying to develop it by creating tools and processes that are related to the reality of his company and the advertising industry. "The proper UNDERSTANDING of challenges and their constraints is the most important part of the creative process. If I put together simple "diagnostic" tools to avoid working upon wrong assumptions, the biggest part of the creative challenge is already solved (THINK). Once the challenge is established, I'll put a good team together to work to find solutions and execute tasks to solve the creative problems (DO)."
Alessandro began his creative career in Brazil, working at Integra Comunicação. In the following years, he worked in Portugal, Spain, France and Poland, at advertising agencies including Newcomm Bates, McCann Erickson and DraftFCB; he developed ATL and BTL campaigns for clients such as Coca-Cola, Kraft Foods, Beiersdorf, Chevrolet, Portugal Telecom, Nestlé Waters, SCJohnson, Unilever and Monoprix. From 2009 to 2011, Alessandro was a Creative Director at Duda Portugal before moving to Poland with the opening of the Duda Polska office.